Half term is here again! Who can believe it?! But if there's one thing we do know at The Lion Hotel, it's that pizza is always a winner when it comes to the kids. So, if you're going a bit stir crazy this week between the pumpkin carving and endless demands for snacks, why not pay us a visit at one of the best pizza restaurants in Derby? 
No Matter The Question, Pizza Is The Answer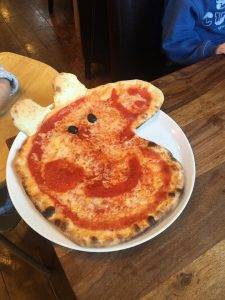 Pizza has the uncanny ability to bring the whole family together. No matter whether they've just been arguing over who's turn it is to go on the games console or who's got the most chips on their plate! There's no doubt about it, sitting down together to eat as a family is a brilliant way to encourage conversation, banish screens for a couple of hours, and give you a much needed rest! 
We are pizza aficionados here at The Lion Hotel. Which is why we are one of the only pizza restaurants in Derby with our very own authentic Italian pizza oven. And we've carefully curated a menu filled with the very best toppings around, from meaty to spicy and everything in between! So, if you're stuck for a fun activity to do this week, come and see us! We're a family and pet friendly restaurant. And our dedicated customer service team are always willing to go above and beyond to keep guests happy. 
Come & Visit Us This Week 
Don't stress when it comes to feeding the kids this half term. Instead, bundle them up and come and visit us instead! We're a family friendly pizza restaurant in Derby and we can cater for a wide range of ages and tastes. 
What's more, if they're not into pizza, we also have a wide range of alternative menus to choose from that are guaranteed to keep taste buds happy. To book your table, head over to our contact page. Or give us a call on 01773 824033.