Thinking of what to do this weekend? Planning on hitting the town? Why not pop down to The Lion Hotel Bar in Belper to enjoy some incredible live music. Every Friday, Saturday or Sunday, we host a live music night. Everyone is welcome.
We have had some amazing musicians perform for us so far this year already. These include the human jukebox, Paul Tabor, an acoustic session by Easy Thomas, and acoustic indie music from Adam Forman. So why don't you come along this weekend? We look forward to seeing you there.
What's On This Weekend?
Join us at The Lion Bar this weekend for a live performance from acoustic duo, Taylor & Hart. The performance will take place Saturday, 28th January, starting from 8:30 pm until late.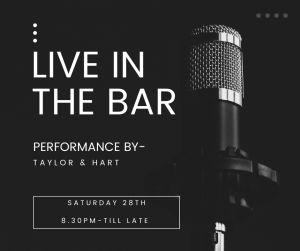 What better way to finish off your Saturday than by sitting back and relaxing with a drink in hand from our extensively stocked bar, or by winding down with some live music after a delicious meal in our gastro restaurant.
Grab A Late Evening Bite
Our food menus are open from 12 midday to 9pm. Make sure to order some food before you settle in to watch the live music or come a little early to enjoy a tasty meal of all your favourites from our gastro menu. 
Fancy a pizza? You can order stone baked pizzas cooked fresh by our first-class chefs on our authentic Italian ovens for a slice of Rome heaven. All of our pizzas are an indulgent snack and there is plenty of choice including Four Cheese, Margherita, Chicken Tikka, Capricciosa, Vegetarian, and more.
Bottoms Up!
To compliment your food, or maybe you're out for the night, grab your go-to beverage from our stylish bar. We have a full range of alcoholic and non-alcoholic beverages to choose from. From a glass of fine wine, to top shelf whiskey. In the mood for a cocktail? We mix everything from classics to our own creations. More of a beer or draught person? We have a selection of bottled beers and ales to sip on while enjoying the live music.
Live Music In Belper
Don't forget to bring along your friends for a great night out in Belper. Keep an eye on our Facebook page for more information on upcoming live music events at The Lion Hotel Bar. If you would like to book a table in our restaurant, simply get in contact with a member of our friendly team. We'll see you there!