Tired of the usual pizza restaurants in Derby? Visit The Lion Hotel today to try our delicious stonebaked pizzas – fresh from the oven!
Take a break from the usual pizza restaurants in Derby this summer and join us at The Lion Hotel for a unique pizza experience that you'll never forget! Perfect for any occasion and home to one of the most stylish family-friendly restaurants in Derbyshire, you can try authentic and international pizza flavours whilst relaxing in our outdoor terrace!
Bring along whoever you wish, and since the weather is glorious, sit outside, watch the sun going down, and listen to our fantastic live music – this is what summer is all about!
There's No Pizza Restaurants in Derby Like Ours…
If you're looking for pizza restaurants in Derby but you don't want to opt for the mainstream options, just a short distance away in Belper you will find The Lion Hotel… By joining us you will get a first-class service, delicious pizza, and pretty outdoor patio areas for you to socialise in – even better we have live music all throughout July and August! There's simply no other pizza restaurants in Derby offering this unique experience, and we guarantee you will love the atmosphere and the surrounding Belper attractions.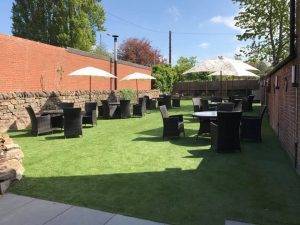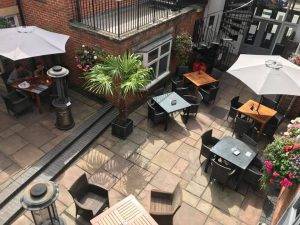 Popular with locals and travellers alike, we are amazed to find that people have travelled from all areas of Derbyshire to try our food! This is because every pizza is made with quality ingredients, created by talented Italian chefs, and they each include a range of toppings for you to choose from including gluten and vegetarian options – there really is something for everyone to enjoy!
Book a Table at One of The Leading Pizza Restaurants near Derby Today
So, if you're tired of the usual pizza restaurants in Derby and you fancy a change, why not contact us today to find out more about The Lion. If you're planning a trip with friends, and pizza isn't quite to your taste, we also have other menus for you to try such as our gastro pub menu or Sunday lunch.