The Lion Hotel is one of the most popular pubs in Belper and is the latest addition to the JC Hotels family. We recently renovated the bar area, and we think that you'll agree that it has never looked better! The Lion Hotel holds many fond memories for the people of Belper and has been in business since the 18th century. Here at JC Hotels, we pride ourselves on retaining the warm and welcoming charm of the hotel to ensure that the people of Belper, and those visiting the area, can relax and truly enjoy themselves! We stock a wide range of drinks to suit all tastes from specialist wines and ales, through to a range of soft drinks and spirits. The Lion pub in Belper is also tastefully decorated, and is a great place to shelter from the cold after a long walk in the surrounding beautiful countryside.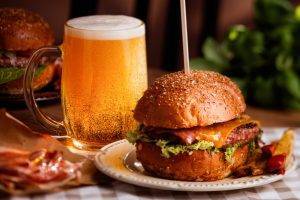 One of the Friendliest Pubs in Belper
Here at The Lion Hotel pub in Belper, we pride ourselves on our extremely accommodating staff who will help you with whatever you require. If you've been trekking in the nearby area you can even pop in and enjoy a rejuvenating cuppa before continuing with your journey. Our staff are extremely friendly and endeavour to make your visit with us as enjoyable as possible. If you get particularly comfortable in our pubs in Belper, we also have a hotel upstairs where you can stay the night!
Why Not Eat at Our Pubs in Belper Too…
If you get hungry when visiting our pubs in Belper, our delicious gastro bar menu, traditional Sunday lunch menu and our authentic stone baked pizza oven guarantee to satisfy your appetite and said to be one of the leading pizza restaurants in Derby! Still want to know more about our friendly and charming pubs in Belper? Then please don't hesitate to get in touch with our team. We will happily help you with any queries about our hotel and pub.