The perfect pizza can be hard to find and must be the right combination of crispy base, chewy crust, rich tomato sauce and delicious toppings. Here at The Lion Hotel in Derbyshire, we've recently opened our very own stone baked pizza oven which we think serves the yummiest pizza for miles around! We have highly skilled pizza chefs who produce our pizzas 7 days a week, and its already become a popular feature of our restaurant.
Try our Pizza Oven in Derbyshire
Our pizza menu is wide and varied and ranges from the classics of margherita, Hawaiian through to more inventive combinations of pulled pork or chilli chicken and bacon. Browse through our menu and find out more about our pizza choices. We have starters such as garlic bread and garlic bread with cheese, and you can finish your meal with a nutella pizza served pilled with strawberries or bananas – one of the reasons why we are the top choice out of all the pizza restaurants in Derby!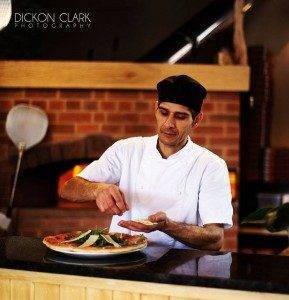 Find out more about our pizza oven and bar menu:
Our pizza oven in Derbyshire is set in our recently renovated bar area and is the perfect place to relax after a long day at work, or for a leisurely weekend dinner. In addition to our pizza oven we also serve a full bar menu at lunch and evening times prepared by our expert chefs. Booking is not essential, but it is recommended at busy times such as weekends, so don't miss out on our delicious pizza and book a table today. You'll love our new pizza oven in Derbyshire! If you would like to find out more about our pizza menu then please get in touch with a member of the expert Lion Hotel team who will answer any questions you may have, alternatively browse through our bar and pizza menus online. We offer some incredible late deals for our hotel, so take a look and grab a bargain at our hotels in Derbyshire!