Looking for fresh and delicious pizza in Belper? Then look no further the Lion Hotel! We've recently opened our stone baked pizza oven in Belper and we now serve a range of delicious pizzas in our newly refurbished restaurant. Our pizzas can also be taken away if you're in a hurry. Forget the usual take away pizzas, and instead go for authentic, fresh and delicious pizzas from the Lion Hotel.
Delicious pizzas from our pizza oven in Belper:
We provide a wide range of pizza toppings and flavours from our pizza oven in Belper which include traditional Margherita, calzones, Hawaii, pulled pork, chilli chicken and bacon and specials such as The Lion's Pride. Our pizza chefs are extremely experienced in making incredible pizzas and so you can be assured of an unforgettable pizza experience. Browse through our pizza menu, and find out why we are the top choice out of all the pizza restaurants in Derby!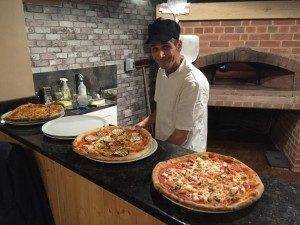 Feeling hungry? Why not try our special garlic bread to start, or end your meal with one of our delicious sweet pizzas topped with strawberries and bananas (which have become a particular favourite with our regulars!). Our pizzas are served Monday to Friday 12pm-3pm and 5pm-9pm, and Saturday and Sunday 12pm-9pm – so come down and take a look at our pizza oven in Belper!
Come and sample our pizza delights from our pizza oven in Belper:
If you would like to find out more about our pizza oven in Belper then please get in touch with a member of our expert team. Our pizzas are served in our stunning, newly refurbished bar area and you don't need to make a reservation, but it is advised, especially at weekends. In addition to our pizza oven in Belper, we also serve a delicious bar menu for lunch and evening times, and specialise in show-stopping sharing platters!