The a la carte restaurant at The Lion Hotel, Belper is the perfect place to visit for unique restaurants in Derbyshire. Whether you're looking for an intimate meal for two, a catch up with friends or a large family gathering. We have an elegant, yet relaxed setting, which is the perfect backdrop, for a variety of events and occasions. If you've been The Lion Hotel before, then please visit us again! We've recently taken ownership and are now undergoing a refurbishment plan for our brand new hotel. We have also developed a brand new a la carte restaurant menu for you to enjoy, and we'd love to know what you think. Take a look to see for yourself. We think these changes make us the best a la carte restaurants in Derbyshire, Belper… But come along and see for yourself.
Why choose our A La Carte restaurants in Derbyshire?
The Lion Hotel a la Carte Restaurant is set in our beautiful 18th century  building, and in prime location for calling in after visiting the local tourist attractions. Our a la carte restaurants in Derbyshire have a fantastic team, who are ready to welcome you! We aim to tailor your dining experience to your preferences, so if you have any special requests or queries then do not hesitate to ask us.
For a more casual a la carte experience our brand new pizza oven is now available. We have a range of delicious toppings which range from super thin traditional margheritas, through to calzones pilled high with toppings. We are also a top choice for pizza restaurants in Derby!
After you've enjoyed the wonderful food from our a la carte restaurants in Derbyshire, our bar is the perfect place to relax with a drink. If you want to extend your stay our beautiful lion hotel, we have 22 well equipped rooms which you won't want to leave.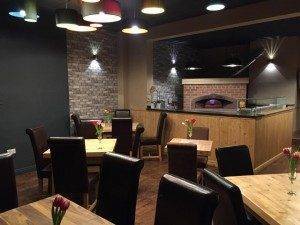 Learn more about our A La Carte restaurants in Derbyshire:
If you would like to learn more about our a la carte restaurants in Derbyshire then take a look at our brand new menu. For reservations, or any questions, please don't hesitate in getting in touch with our dedicated team.